Twittering Through Chemo
Panelists: Drew Olanoff and Brian Simpson.
Compassion Through Social Media.
Humor as a method of therapy has been a coping mechanism for people facing catastrophic news. Sharing the pain and grief of a cancer diagnoses with a group of supports is immensely helpful. Now take that one step further with the possibilities of social media and you find a family you never knew you had. Drew Olanoff  and Brian Simpson found that out when they were diagnosed with cancer.
Hodgkin lymphoma. How does one handle that news? For Brian Simpson, "Any little thing, any little app, any way to communicate publicly was like a light at the end of the tunnel." He soon fond out he was not the only one.
Olanoff just got a new job when he received his cancer diagnosis. He decided not to feel sorry for himself for the sake of his family but also didn't keep much to himself.  Olanoff decided to do what he knew how to do, he used social media (Twitter) and created an identity as a cancer survivor. As he puts it, "I just wanted to say I have cancer." After a few tweets he soon discovered cancer doesn't have to be hid away in shame and found his tweets were the source of comfort and inspiration for other cancer patients and their families.
During the panel, Simpson shares his story about how twittering made others with cancer able to communicate with him and in turn want to meet in real time, something didn't expect. This made him realize how powerful those short tweets really are. "I was starved for some kind of reinforcement,"  Simpson said, " It wasn't just people in a chat room but some way to say something nice." This simple form of communication had a huge effect on both Simpson and Olanoff. People are listening and relating on a deeper level.
But is Twitter too brief? No, says Olanoff, "140 characters is all you need to tell someone you love them," he said, " I could only think in 140 characters. It was the most simple thing to do. I wouldn't be able to do it without support."
Another advantage the two men found with Twitter is no matter where friend goes you can follow them and they you and you can see how they are doing. Simpson said, "You can follow up with a bigger circle."  It also makes you hold to what you say. Say you're going to take a shower, and for a cancer patient that can be really tough, if you post it others will hold you to it.
"You need a chemo co-pilot," said Olanoff, "someone who has gone through what you're going through." Olanoff gives an example of being afraid of falling to sleep and not waking up. A chemo co-pilot who has had the same problem was able to talk him through it making it easier to finally get peaceful sleep.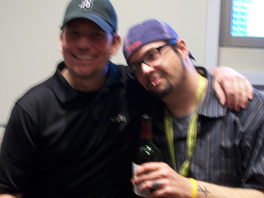 Today both Olanoff and Simpson are completely comfortable with speaking openly about their cancer. Shaving their hair was a means to get over the fear of being stigmatized by society and proved that by shaving their hair during the talk.
Simpson finished chemo in 2008. Olanoff isn't over with his rounds of chemo but soon will be.
Gary Vee is attending this panel! He's that famous wine guy!